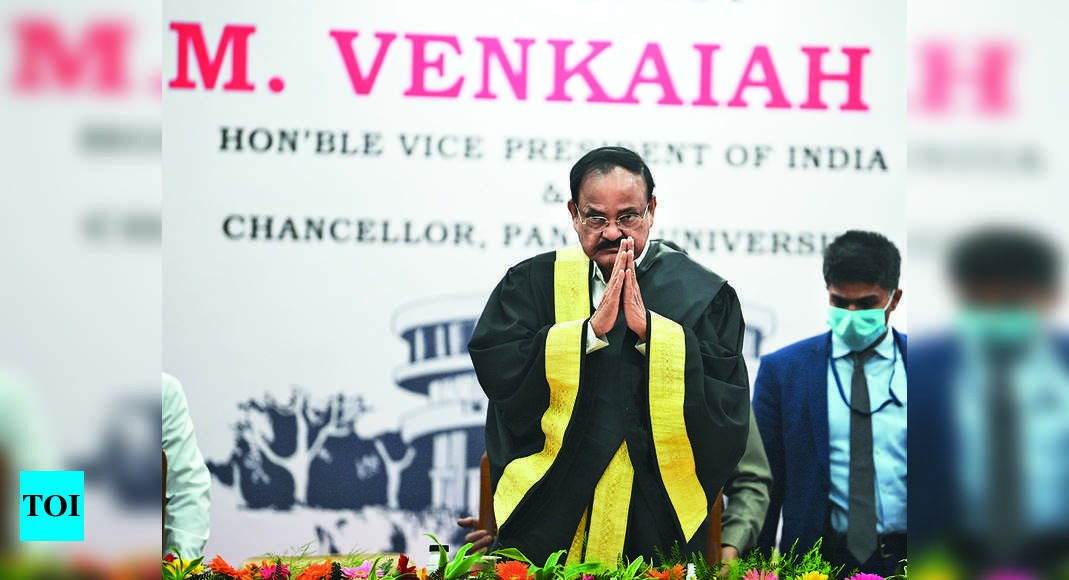 At Pu Convocation, Vice Prez Says Pu Will Lead 'Knowledge Revolution' | Chandigarh News
Poviet Kaur
Chandigarh: Presiding over the 69th convocation of Panjab University on Friday, Vice President M Venkaiah Naidu called for serious pursuit of academic excellence and coordination between universities and government for better policy formulation.
He was received at the airport by Governor of Punjab and Administrator of Chandigarh Banwarilal Purohit, Governor of Haryana Bandaru Dattatreya, Chief Minister of Haryana Manohar Lal and CM of Punjab Bhagwant Mann.
During the ceremony, doctoral degrees were awarded to 1,128 scholarship recipients. The Vice President also conferred honoris causa on Chief Scientific Adviser Professor Ajay Kumar Sood and pioneers of indigenous vaccine manufacturing Dr Krishna Ella and Suchitra Ella.
Also, Punjab University Ratna Prizes were awarded to Professor JS Rajput in Education, Acharya Kotecha in Indian Medicine, Rani Rampal in Sports, Professor Jagbir Singh in Literature, Onkar Singh Pahwa in Industry and to Khandu Wangchuk Bhutia in the fine arts category.
The Vice President arrived at Panjab University around 10:00 a.m. and the distribution of diplomas began around 10:30 a.m. Seating arrangements had been made for 1,300 people, including several VIPs inside the gymnasium. Elaborate security arrangements had also been made. Police officers were deployed on all roads leading to PU and no vehicle zones had been created on campus.
During the convocation, 352 doctorates were awarded to students of the Faculty of Science. A total of 404 diplomas were awarded to female students and 724 to male students. Degrees in the disciplines of Pharmaceutical Science, Arts, Education, Language, Law, Engineering and Technology, Business and Commerce Management, Design and Fine Arts have been awarded.
Addressing the students of PU, Naidu appreciated the university for honoring extraordinary talents from all over India and expressed hope that other universities would follow suit. "I am happy to preside over this university – a university with a glorious past, a very impressive present and a bright future. It is a university that has earned itself a prominent place in the country's higher education landscape" , did he declare.
He called for coordination between universities and government saying, "Universities, like yours, must be at the forefront of the
knowledge
revolution, through groundbreaking innovations and cutting-edge research. At the same time, there should be closer interaction between universities and government so that stronger policies can be formulated.
The Vice President asked those present to follow the principles enshrined by Guru Nanak Dev of Sat (honest and truthful behavior), Santokh (contentment), Daya (compassion), Nimrata (humility) and Pyaar (love).
Stressing the importance of peace as a prerequisite for progress, the Vice President called on all universities to ensure that peace is maintained on campus and to emphasize academic excellence.
He also stressed the importance of social harmony and said these values ​​should be instilled in students from an early age. "There should be no room for divisions of caste, creed, religion and gender in the 21st century. We all belong to one country, India," he said. He also praised the University for the athletic performance of the students.
He said he believed that Punjab University would become a leader in the internationalization of education by creating collaborative research mechanisms, faculty and cultural exchange programs.
Adopt central salary grids for professors:
Jain
Former City MP Satya Pal Jain on Friday requested the central government to make the condition of service including salary scales in respect of the teaching faculty of Panjab University (PU) the same as that specified in the UGC regulations and to make the notification adopt the central salary scales for UT employees applicable to the teaching faculty of UP.
In a letter written to Home Minister Amit Shah, Jain called on the central government to extend the notification benefits, extending the terms of service for central government employees to those in Chandigarh, applicable to UP employees. .
Jain also sent a memorandum signed by more than 500 members of the teaching faculty, including Prof. Manu Sharma and Prof. Parveen Goyal, to Shah along with his letter.