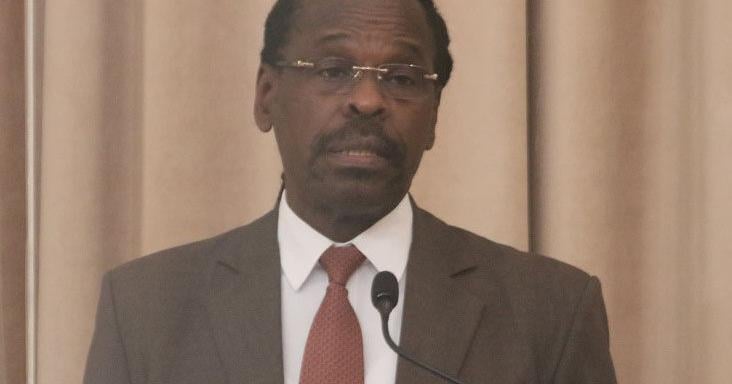 Hinds: TTPS and Coast Guard Launch Probes | Local News
Both the Trinidad and Tobago Coast Guard and the Trinidad and Tobago Police Department launched investigations into the shooting death of baby Yaelvis Santoyo Sarabia on Sunday.
National Security Minister Fitzgerald Hinds said this when answering an urgent question from opposition Senator Wade Mark in the Senate at the Red House in Port of Spain yesterday about whether an inquest had been opened into the circumstances of the death of the nine-month-old baby.
Hinds said: "I take this opportunity to express my deepest condolences to the parents of this child and, of course, to the government and people of Venezuela, as it has been determined that all occupants of this vessel who have approached T&T without permission or notice to that state were in fact Venezuelans," he said.
He added: "From the information I have, they (the Trinidad and Tobago Coast Guard) and most certainly the (Trinidad and Tobago Police Department) have launched investigations at the following this unfortunate incident."
Mark's questions about the number of Venezuelans who were in the dugout and whether the prime minister had been in contact with the president of Venezuela over this tragic situation were dismissed.
No problem with Maryam
Meanwhile, Minister Clarence Rambharat, deputizing for the Minister of Health, said the Ministry of Health has no objections to the Chief Medical Officer of Facilities (Dr Maryam Abdool-Richards) sitting on three health boards. 'State.
Richards sits on the boards of Angostura, Nipdec and the Eastern Regional Health Authority.
He was responding to a question from Mark asking whether Abdool-Richards had received formal approval from the Department of Health and the Civil Service Commission.
"The Ministry of Finance has confirmed, after checking with relevant authorities, that the Public Service Commission has no statutory regulatory rules on the appointment of public officials to state boards," Rambharat said.
Asked by Mark if it was normal for senior civil servants to be entrusted with functions within the boards of directors of the State, not to directly represent the State or the institution from which they come, but to represent the government of Trinidad and Tobago, Rambharat said: "The member asked the question and I answered it… My colleague knows him well, he was Minister of Public Administration where he had direct contact with the Public Service and how it works.
"There is a long-established practice that the highest level of permanent secretaries are appointed to state councils and other statutory bodies, some by statute…and others by decision" , by the people of the particular organization.