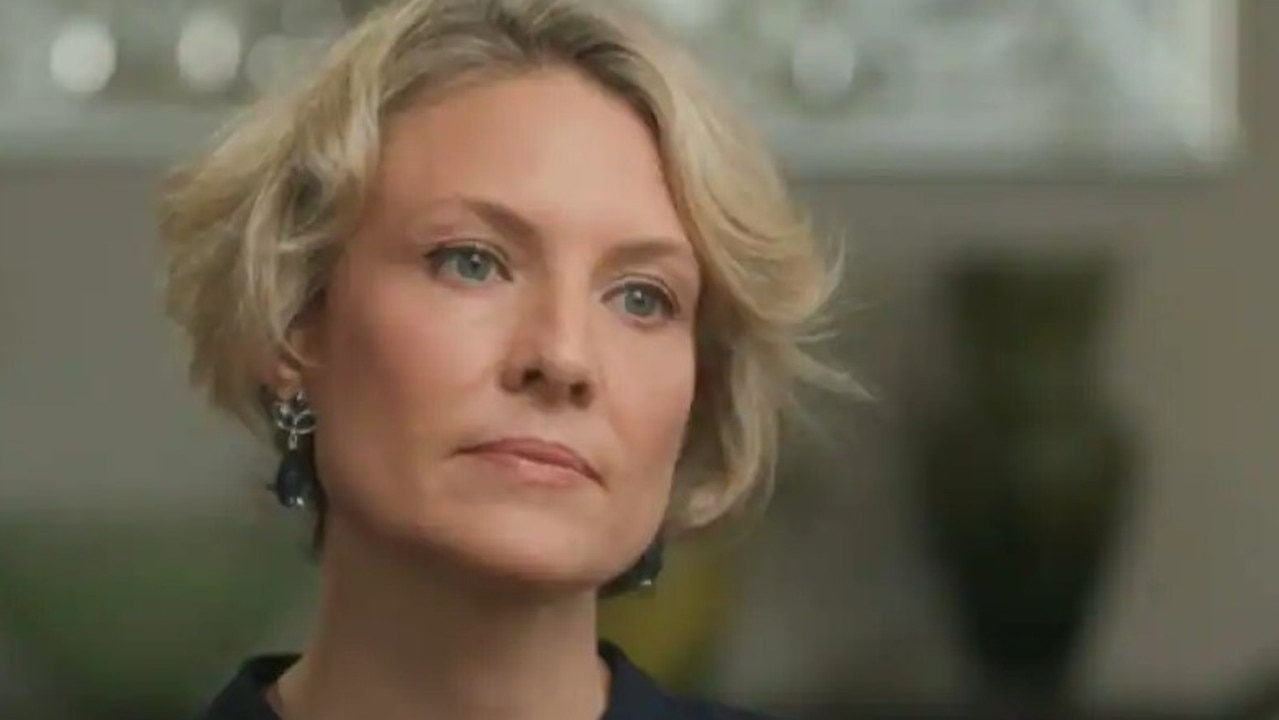 Katherine Deves went rogue for an SBS interview without the knowledge of the Liberal Party
Controversial Liberal candidate Katherine Deves' exclusive appearance on SBS came as a big surprise to party officials.
Liberal candidate and biological sex activist Katherine Deves went rogue and conducted an interview on SBS television without the knowledge of party strategists after calling the police over death threats.
On Sunday, SBS World News' Janice Petersen announced that she had interviewed Ms Deves at a 'secret location' and that her husband and children had fled Sydney.
But her surprise decision left liberal officials scrambling to find out what she said and some were even told to "turn on the SBS" to find out.
Ms Deves said she was not transphobic and had been reprimanded by public fury.
"As a mother and a wife, I recognize that the way I pursued these arguments was not conducive to proper and reasonable debate," she said.
SBS also confirmed Monday night that the interview was arranged without the involvement of Liberal campaign HQ.
"Ms. Deves has agreed to do the interview. This was arranged directly with her, not through Liberal campaign HQ," SBS said in an online article.
News.com.au understands that Ms Deves has at times been difficult to contact as she campaigns with the help of her friend and supporter, lawyer Bridie Nolan, who is married to her opponent's ex-husband independent Zali Steggall.
Ms Deves had previously made headlines by suggesting that trans teenagers are 'surgically mutilated', that surrogacy is 'a vanity project' and 'a violation of human rights' and that trans activists are "the Rainbow Reich".
While some media reported on Anzac Day that NSW Police had no record of an official complaint from Ms Deves, news.com.au understands there is text confirmation that she spoke to NSW Police.
"I received death threats. I had to involve the police and the AFP. My safety was threatened. My family are away, out of Sydney because I don't want them to witness what I'm going through nor do I want their safety at risk," Ms Deves said. SBS.
The case was immediately forwarded to AFP, which set up a special unit to protect politicians and candidates during the election.
AFP does not declare active investigations as a matter of policy.
News.com.au got the social media post which left Ms Deves so alarmed that she turned herself in to police fearing her life was in danger.
The correspondence appears to be from Facebook, but the poster name and comment date have been removed.
"You fucking terf", it starts.
The acronym TERF stands for trans exclusionary radical feminist.
"If you ever comment transphobic bullshit on my feed again, I will burn you and stick my daughter around your neck.
"Fuck witch. That's a transphobic ass.
The poster had a picture of a trans woman wearing a bikini top, wrapped in a pink flag and standing at a protest with an anarchy symbol.
It's unclear from the screenshot whether the comment is being made by someone in Australia or overseas, where 'Terf Island' supporters have been told to 'step up' in support of Ms. Deves online.
Ms Deves also defended her decision to ban the media from a policy in the pub event on Friday night, saying she did not feel safe emerging in public or facing the media.
"There was a media storm. I went from being a small platform in a certain demographic to suddenly being the political candidate who was second only to the prime minister in terms of media coverage," she explained.
"We wanted it to calm down a bit before I respond to media inquiries."
"I wanted to expand my platform. I know that SBS affects many Australians, in many demographic groups and in many different lifestyles.
On February 14, 2022, Ms Deves gave an interview to the Sydney Morning Herald where she confirmed that she supported Ms Steggall's campaign in 2019, but not officially, as she believed she was the best candidate for the seat after more of two decades with Tony Abbott as MP.
"My loyalty has always been with the Liberals, but I've been very interested in her because I think you should support the candidate who will do the best for the electorate," Ms Deves said.
"But I can confirm that I have been really disappointed in her since she was elected."
In her official nomination documents, however, Ms Deves denies that she was ever a volunteer.
"I don't remember signing up to this page," she said.
"I have not received any emails or correspondence from this organization. I wrote to them on February 20, 2022 and asked them to remove my name from the list.