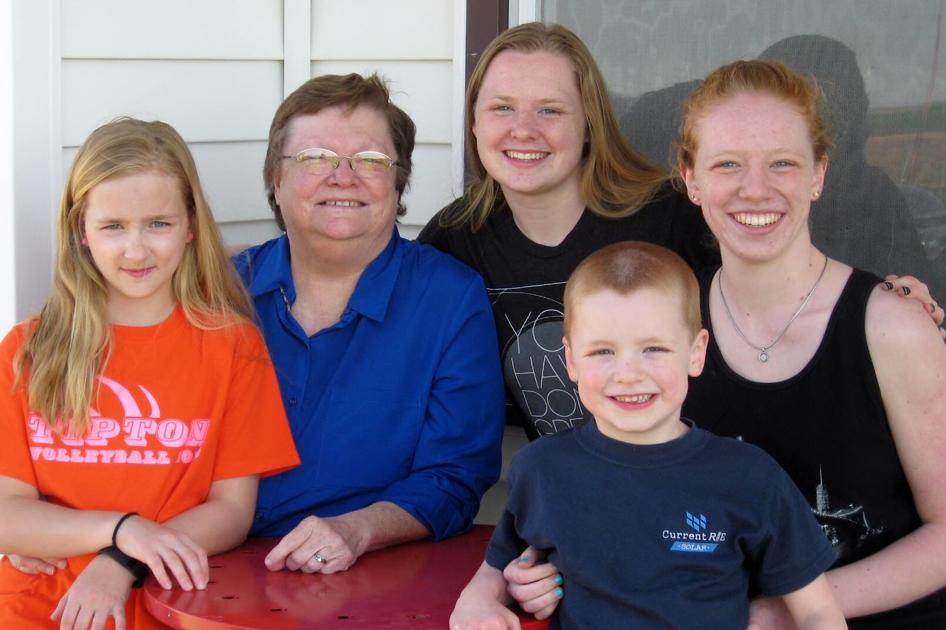 Lack of knowledge prompts Iowa author to make history | Local News
CLINTON – "For some reason, I've always loved the history of Iowa," author Linda Betsinger McCann said Monday. Her parents took the family on trips to the Midwest, and McCann always enjoyed Iowa, she said.
The author will be speaking about his Clinton County books this month at the Wheatland and DeWitt Public Libraries.
McCann didn't grow up in Shell Rock, but after moving there, she found her family descended from the city's founder, George Washington Adair, she said.
The 150th anniversary of Shell Rock in 2005 led McCann and other residents of Shell Rock to form a historical society. McCann is still its president.
"I didn't know the history of Shell Rock," McCann said, so she started to research.
McCann told people about the history of Shell Rock, and many of them mentioned towns that no longer exist. McCann's curious mind asked, "Where have they gone? "
McCann wrote about eight of the extinct towns in "Lost Butler County Towns in 2010," which was published in 2011.
One "lost" book led to another. "I've done seven counties," said McCann, all in northeast Iowa along the Cedar River because it's in his neighborhood.
"Then I started tripping over other things that I didn't know about," McCann said.
Iowan magazine was its next publisher. "They were excited when I had interest and could do books that involved multiple counties or a statewide interest," McCann said.
McCann once asked his young granddaughters what they knew about Prohibition. Prohibition of what? they wondered.
McCann explained the 18th Amendment to the United States Constitution which prohibited the manufacture, transport and sale of alcoholic beverages. The ban was ratified by the states on January 16, 1919, and officially came into force on January 17, 1920, with the passage of the Volstead Act. The 21st Amendment was ratified on December 5, 1933, ending Prohibition.
McCann will discuss his book on Prohibition in Iowa at the DeWitt Community Library, 915 Fifth Ave. at DeWitt, Monday, October 18 at 4 p.m.
McCann's discussion of the ban has met with mixed interest, she said. People tell her, I can't believe Iowa has a ban, she said. They know Chicago has banned alcohol, but not that the state of Iowa has.
"It's the first thing that surprises me," McCann said.
The second is interest in the Mafiosi. Although McCann's research led her to the story of a shootout between an MP and a Chicago gin vendor about three miles north of Waverly, her book, "Ban in Eastern Iowa ", Does not deal with the mobsters.
"This book explains why the Iowa farmer knowingly broke the law and used his corn to make alcohol," McCann said.
"I spoke with the children of smugglers," McCann said. They had mixed feelings about their family's crimes. One of them left school in the second grade to help his family break the law. "They had to eat," McCann said.
A man northwest of Mason City wishes his family had never violated the ban. The farmers were losing their land because they couldn't pay, so this man's family bought the farms.
Decades later, the descendants of these farmers accuse the man of robbing their family farms, McCann said. "He wishes his father had never done it." It was a drastic measure that still has side effects, she said.
"The Civilian Conservation Corps of Northeast Iowa" is another book from a conversation with McCann's grandchildren, she said.
McCann and his family were in Backbone State Forest south of Strawberry Point. Her grandchildren took a hike and came back with a photo of something. They asked McCann what it was, but she didn't know.
The photo showed the drain and plumbing of a shower stall, McCann said. They asked a ranger if the remains of the structure were a CCC project.
The ranger said it did, and he was surprised no one had found him sooner.
CCC built most of the Backbone State Forest, McCann said. His grandchildren did not know it. "It's something they should know," she said.
"Most of us are familiar with state parks and that sort of thing, but here in Iowa 75% of the work the CCC did was actually on soil erosion and flood prevention," McCann said.
"All this work on state parks is only 25% of the work they've done," McCann said. "And again, we don't know that stuff."
McCann spoke to 15 men who worked for the CCC. "I was very lucky," she says.
"The Civilian Conservation Corps in Northeast Iowa" was published by The Iowan Books in 2016, and "Civilian Conservation Corps in Southeast Iowa was published by Tandem Publishing Group in 2018.
McCann plans two more books on the CCC to cover the Northwest and Southwest.
McCann will speak about the CCC at the Curtis Memorial Library in Wheatland on Monday, October 18 at 11 a.m.
"Now I finish polio in Iowa," McCann said. She hopes to have it published in 2022.
This fall, if the printer can get the paper for the book, "Rosie the Riveter in Iowa" will hit shelves, McCann said.
McCann will have copies of all of his books in the Wheatland and DeWitt Libraries on October 18.
"I would say anyone from college on… would learn something from what I have to say."