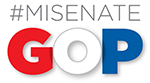 LaSata's Election Integrity Legislation Receives Legislative Approval, Heads to Governor's Office
LANSING, Michigan— The Senate voted on Wednesday to send legislation to protect Michigan's election integrity to Gov. Gretchen Whitmer.
Senate Bill 302Sponsored by Senator Kim LaSatawas introduced as part of a larger package aimed at improving the efficiency, integrity and security of elections in Michigan.
"Voting is a precious right and a duty that we share as Americans, and it is extremely important that people have complete confidence in the results of our elections," said LaSata, R-Niles. "There are a lot of concerns about the integrity of the elections right now and we have a duty to address those concerns."
The bill, which was passed by both houses with bipartisan support, would require people registering to vote to confirm they understand it is a crime to vote or attempt to vote more than once in the same election, in the same electoral district or in another.
"Recent elections, as well as an audit released by the state's Auditor General, revealed that we can do better to serve Michigan voters," LaSata said. "Ensuring that each person understands the law and the consequences of criminal activity is essential for an accurate vote count and will help clerks focus on other election-related tasks."
###