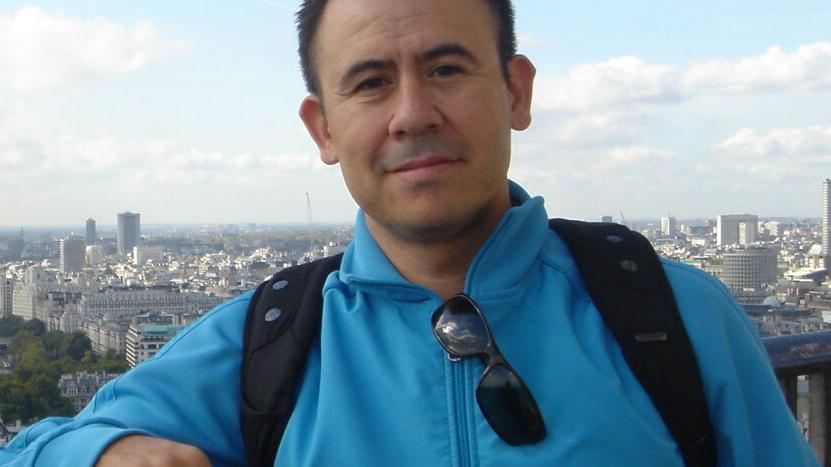 LeDoux shared his new knowledge of Mexican Spanish | Local News
Those who speak it know: Neo-Mexican Spanish is as characteristic as the flavor of Hatch peppers, as the color of the state's sunsets. But when English dominated the public school system in the 20th century, the importance of the dialect declined.
In order for it to survive, its speakers had to make the words flow. For many in Santa Fe, that person was John Paul LeDoux.
LeDoux, a longtime Spanish teacher at Santa Fe Community College and a resident of Nambé, died on October 19 at the age of 51, 4.5 years after being diagnosed with amyotrophic lateral sclerosis. It is also known as Lou Gehrig's disease.
Surviving family members include his wife, Reina LeDoux, and children Matías, 13, and Lourdes, 16.
"It was such a relief to know that John was there at Santa Fe Community College to do his job. I know there is someone out there who knows what he's doing," said colleague Lillian. Gorman, from Albuquerque, who runs the Spanish program. program for heritage speakers at the University of Arizona.
Gorman nominated LeDoux for the 10 Who Made a Difference Awards this year for his efforts to inspire NOTuevomexicans and the Chicanos are working to improve their Spanish skills. He died before The New Mexican was able to contact him for a story.
Gorman had heard of LeDoux before she met him. She said he was one of the few young teachers who went out of their way to keep New Mexican Spanish up to date through heritage classes – for speakers who have family ties to a language.
For New Mexico academics, LeDoux was the ultimate role model, both funny and unpretentious.
"It made the identity and the ways of speaking of northern New Mexico and Hispanic very visible and created a pride in it, while also connecting with other Latin American communities of the American and Mexican populations," said Gorman.
Santa Fe Community College academic advisor Jonathan Harrell, who taught Spanish classes when LeDoux chaired the school's language department, said LeDoux was mentoring a mentor.
"He mentored so many other people who would become colleagues in schools everywhere," he said.
LeDoux was born July 19, 1970 and raised in Dixon. A longtime friend, flamenco singer Vicente Griego, said he prefers to call the community by their original Spanish name: El Puerto del Embudo by Nuestro Señor San Antonio.
"He grew up in an ancestral language community. He had been speaking his language since he was little, "Griego said. "There is a very small percentage of people who speak the kind of Spanish that we speak in northern New Mexico."
Griego said LeDoux has likely helped thousands of people connect with the Spanish language and regional culture.
Griego recalled fondly that when the two men were "bohemians" from northern New Mexico to Albuquerque during their college days, it was LeDoux who helped pique his interest in flamenco by playing music from the Spanish Roma flamenco singer Camarón de la Isla on a road trip.
LeDoux, the son of local educators Eugene and Jennie LeDoux, graduated from Pojoaque High School in 1988 and went on to study journalism and Spanish at the University of New Mexico.
He envisioned a career as a sports commentator and had a long allegiance to sports teams such as the Lobos, Sun Devils and now the Las Vegas Raiders.
Later, while obtaining a master's degree in Spanish at the same school, he met Reina, who was studying to become an engineer. The pair quickly became "inseparable," Reina said.
LeDoux went on to obtain a doctorate in Spanish, focusing on Chicano literature, from Arizona State University in Tempe. Her thesis explored how writers in Rio Arriba County used humor, carria, resist colonial assimilation.
Reina described LeDoux as a fiercely devoted father who loved helping out with extracurricular activities. When their daughter Lourdes had dance lessons, he swayed beside her.
Although he had a long academic career under his belt, said Reina, LeDoux was most proud of their marriage and family. He always encouraged his engineering career alongside his own, she said.
"We were always together, but never held back," she said.
LeDoux retired in 2019 from his position at Santa Fe Community College, where he chaired the language department for a time, due to the progression of his disease.
He spent the last years of his life raising awareness about ALS. His New Mexico ALS Walk team raised over $ 7,000 in September.
Several LeDoux colleagues said a few days before his death, although unable to verbalize, he was using a voice device to make jokes and still served carria spirit by SMS.
"He continued to be himself despite everything he faced," said Harrell. "It was really inspiring, and I think about him every day."
The family celebrated a funeral mass on Friday at the Santa Cruz de la Cañada Catholic Church.
The Santa Fe Community College Foundation recently announced the John Paul LeDoux Memorial Title V Scholarship, which will serve Hispanic and low-income students at the school.
"John had this way of making everyone feel important and heard," Reina said. "That's what made him so important to everyone."