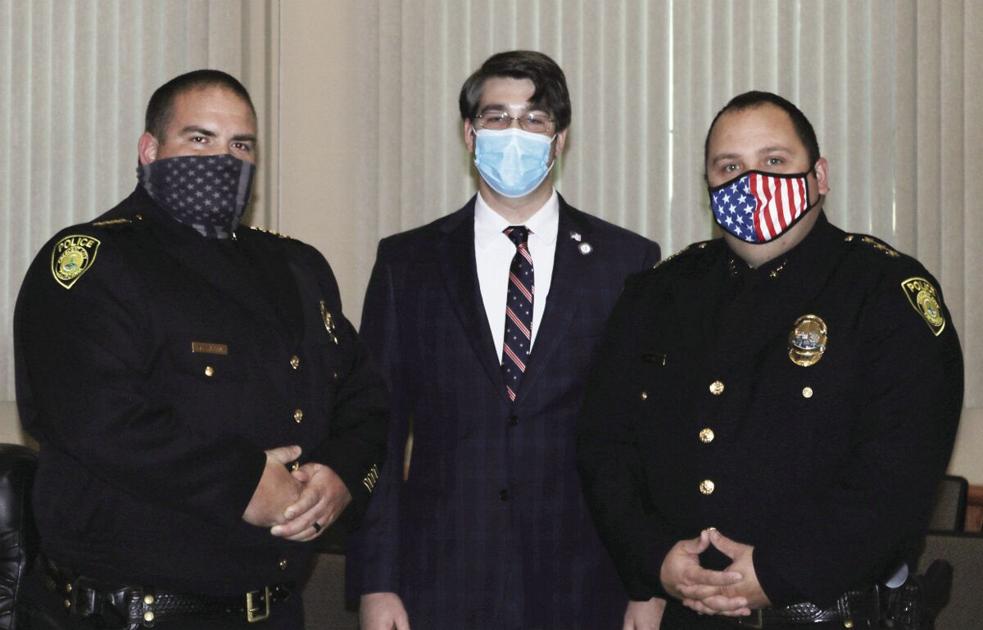 police department continues to make improvements | New
This week marks two years since Richard Griffin stepped down from the Crescent City Police Department to become its chief of police.
Also this week, Justin Gill was promoted from sergeant to lieutenant – this latest advancement reflecting Griffin's intention to create a higher level of administrative structure and leadership within the department.
"I have 13 years left to do this job," Griffin said in a sit-down interview last month. "Having a good number two person that I can say 'Hey I'm going to take a week off here and it's in your hands' – that's something that will be needed for longevity and structure."
According to Griffin, four people applied for the lieutenant position and the candidates were reviewed by him and general manager Eric Wier.
The new role will focus primarily on administrative and police leadership.
"We chose him (Gill) because of his work ethic and his ability to grasp administrative duties," Griffin said.
The promotion also means a step forward in achieving the goals of Measure S, a 1% increase in the transaction and sales use tax which was passed by voters in November and came into effect there. six months ago.
In May, Griffin informed city council that the $ 1,646,885 in Measure S funds would enable the police service to meet the following needs:
Staffing of additional police officers, including a detective and lieutenant, as well as another K-9 officer.
New vehicles, such as detective and special purpose vehicles.
Facility needs, including improvements to the existing station in the short term and a new police station as a long term goal.
Body camera upgrades and new tasers.
Many of Griffin's plans for the use of Measure S funds came to fruition.
"We've been fully staffed for almost two years now," said Griffin, who added that the Measure S funds will allow the department to grow from 12 to 15 sworn officers over a three-year period. Interviews to hire the first of three agents have started and an announcement is expected soon.
"We will be moving to a sergeant and two officers on each shift," Griffin said. "Right now we have a sergeant and an officer, and 12 hours a day we have coverage. "
"I'm just excited about our future Crescent City Police Department as we have a lot of community support and support from City Council," Griffin added. "It was really great to see that (Measure S) was going to pass, and it allows us to have a full shift."
One of the two specially affected vehicles also hit the streets last month, although some may not have noticed because the large truck has not been customized to include a cage, lights and the logo. Crescent City PD until recently.
It makes sense for law enforcement vehicles to be more robust, especially in a rural environment. Large, more majestic vehicles are commonplace in Del Norte sheriff and local tribal law enforcement agencies, and are coveted not only for their ability to climb difficult terrain, but for their practicality.
"The ultimate goal is to make it a destination city on the west coast," Griffin said. "We have a lot to offer, so we really see how we connect and what our role is with the city to help facilitate that."
One such approach is the "broken window theory" first studied by Philip Zimbardo, then introduced by George Kelling and James Wison. The theory maintains that the visible indicators of the burn invite criminal activity.
"If you leave a cart on the street for two days, all of a sudden it's totally okay for people to walk around with them," Griffin said.
Prior to the addition of the truck in recent months, the CCPD turned rogue carts into Safeway, Wild Rivers Market and other retail stores by handcuffing them to the bumpers of smaller police vehicles.
"I told my guys that in the first place," Griffin said. "I said, 'No, we're going to enforce this order.' It's a stolen item worth $ 600 for each cart. We are doing what it takes to get them back to the stores.
A few frequent travelers of stolen grocery carts have also been prosecuted.
As for other accomplishments, Griffin said he's most proud of two recent upgrades: the Axon body camera system and the in-house training capabilities of the department's officers.
The Axon system, which was also made possible by funds from the S-Measure, means that every officer's handgun triggers the body camera to activate as soon as a weapon is taken out of its holster.
"Say I'm ambushed and forgot to turn on my camera," Griffin said, while standing to show the recently installed switch near his gun. "If I activate my gun or my Taser, it activates the video camera. He activates mine, as well as any other officer within 15 yards.
Images which Griffin says increases transparency with the DA's office and allows the department and the public to share videos through direct and immediate uploads to the Axon system.
"We used to have to make CDs," Griffin said. "Now we can just broadcast it in an email and citizens can also download videos and send them through axon.com. "
Axon also allows officers to work on virtual de-escalation training during their shift's "downtime", and Griffin said the next phase includes adding dashboard cameras to the patrol cars – whose images would be automatically uploaded to the department's system as patrol vehicles. ride on the department's backlot.
POST, the Commission on Standards and Training of Peace Officers, is an annual compliance resource that officers must meet by taking 24-hour training in areas such as proper arrest procedures and firearms .
Previously, officers from Crescent City had to travel to Fresno to complete their mandatory training, but Griffin said some of the department's officers recently took certification courses within POST, which made it possible to take the training closer to at their home.
"I didn't need to send agents to Fresno, it just cost taxpayers more money," Griffin said.
The in-house ability to provide POST, or what Griffin called "perishable skills," also allows him to focus on more advanced law enforcement capabilities, such as detective work.
Adding a detective is a priority for the department, especially since Crescent City – like many cities – experiences a different level of crime.
"We're starting to see more and more high-end crime," Griffin said. "I mean, yeah, we had the bank robbery, but it seems to be working a bit."
As Griffin continues to focus on improving the department and the community he lives in, he has said transparency and keeping the community informed are high priorities.
That means reaching out to the 5,500 people who have subscribed to the department's social media page – which only had 1,000 followers two years ago, attending school and city council functions, and introducing Kai – the dog of beloved German Shepherd K9 patrol of the department.