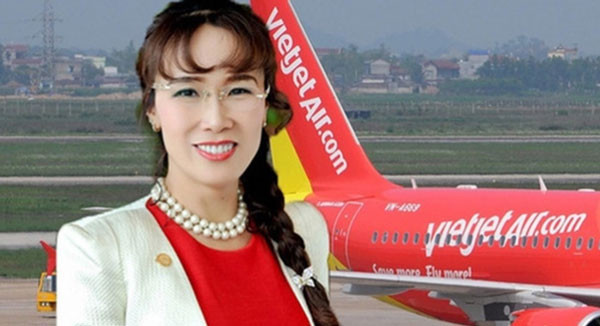 Raising 500 million dollars, Vietjet Air wants to "play big"
Vietjet Air plans to privately offer 34.8 million shares to 100 professional securities investors at a price of VND 135,000/share to raise nearly VND 4.7 trillion in 2022-2023 after getting fired green from the State Securities Commission (SSC).
The capital will be disbursed from Q4/2022 to Q1/2023. More than VND 2.3 trillion would be used to improve liquidity and working capital, VND 1.1 trillion to lease and purchase aircraft, and VND 1.2 trillion to lease and purchase engines and equipment.
Earlier, its shareholders' meeting approved a 3-5 year convertible stock issuance plan worth VND6.96 trillion ($300 million). The capital will also be used for investment, rental and purchase of engines, as well as to improve the companies' liquidity and working capital. At the meeting, Vietjet Air shareholders also approved a plan to issue more than 108.3 million shares to pay dividends and increase share capital.
With the first two plans, Vietjet Air will raise 11.4 trillion VND (nearly $500 million). Its share capital will also increase sharply.
The aviation sector is experiencing better business results with profits and decreasing losses. However, companies in the sector are still facing difficulties due to high fuel prices, and international air links have not fully recovered.
Vietjet Air in the second quarter of 2022 reported a profit after tax of VND 181 billion, bringing the cumulative profit in the first half to VND 426 billion.
Its consolidated revenue in the second quarter reached VND11.6 trillion and in the first half reached VND16.1 trillion, an increase of several times compared to the same period last year and higher than the same period of 2019.
Vietjet Air's business results in the second and first half of the year are impressive, reflecting the strong recovery in travel demand after the pandemic.
M.Ha