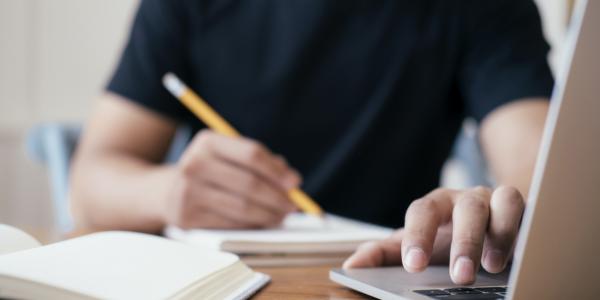 Schoolchildren "have a huge knowledge gap after Covid"
You have to say "out loud and admit" that there is a "huge" gap in the knowledge of some students as a result of the Covid, according to the director of education of a Scottish council.
Audrey May, Education Officer at Dundee City Council, told MSPs this morning that when students return to school, the focus is not on 'catching up' but on their well-being and their well-being.
However, she stressed that it is also important to accept that while some students are well engaged in digital learning, others are not.
---
Research: Mixed report for Covid catch-up work in Scotland
Related: "Most" of the SQA course changes will continue into the next year
Opinion: Why the fierce resistance to the idea of ​​"catching up"?
Covid impact: Deeply negative catch-up rhetoric is bad for students
---
Ms May made her comments to the Scottish Parliament's Education, Children and Youth Committee, which is gathering testimony on the 'alternative certification model' (ACM) which replaced exams last year.
Catching up with Covid: The impact of learning loss
The committee also heard from young people in nine private sessions last week and learned that the pressure to get good grades last year has "led to stress and burnout."
A report summarizing the views of the students said they spoke of "crying regularly and suffering from headaches." She adds that some high school students "had dropped out of subjects and this would have an impact on their future."
Ms May said: "When our young people went back to school, we didn't use the language of 'catching up' and put extra pressure on them. We were very concerned about their well-being and wanted to take care of them due to the impact of their experience during the pandemic and concern for qualifications.
"So that's a health, wellness, and wellness approach that we took for the comeback, so we didn't focus on, 'Well you've got a huge gap in your knowledge. And I think we have to say it out loud and admit that it does.
"So we have to think about what this means for the future."
Tony McDaid, director of education at South Lanarkshire Council, who also testified, pointed out that students preparing to sit down this year had gone through two periods of lockdown.
He said the gaps in their knowledge were being addressed by the adjustments made to courses and qualifications by the Scottish Qualifications Authority (SQA).
So, for example, in higher English this year, students will only produce one text for their portfolio, instead of two. Without such changes the "leap" upwards would have been "considerable," he said.
Following these changes, Mr McDaid said he was not so concerned about the lack of knowledge this year.
Meanwhile, the report summarizing the views of young people says that despite the cancellation of national exams in 2020-2021, "many young people said they still felt like they were taking exams." Some said they "felt like they were taking exams every day for two consecutive months"; one student underwent 39 assessments over an eight-week period.
The students said the pressure to get good grades "brought stress and exhaustion." The report also states that the students "talked about crying regularly and suffering from headaches."
The report adds: "The young caregivers said that at times they felt mentally exhausted. CiS participants [Children in Scotland] session felt that some schools were too elitist and cared more about results and statistics than about student well-being.
He continues: "It was mentioned that some students had dropped out of subjects and that this would have an impact on their future. "
However, the students highlighted a few positive points: last year's assessment was not based on a single exam; assessments take place later in the school year, "giving students a chance to improve"; and the ACM was more flexible, allowing assessments to take a different date if necessary.
Ms May also said that one of the benefits of the ACM in 2020-2021 was that there were "no surprises" when it came to the grades students received. She added that this was reflected in the small number of calls.
Data on the total number of calls from last year's results have yet to be released by the SQA, but when the results came out in August, the organization said it had received 4,000 calls. Around 11,500 review requests were received by the SQA results department in 2019, under the system in place before Covid.
Mr McDaid said the priority for this year is that teachers should not have to prepare students for exams at the same time as they run an alternative assessment model.
He said: "We have to make sure that the teachers' workload is manageable, because it is an integral part of the experience of young people and, ultimately, of the qualifications they have."