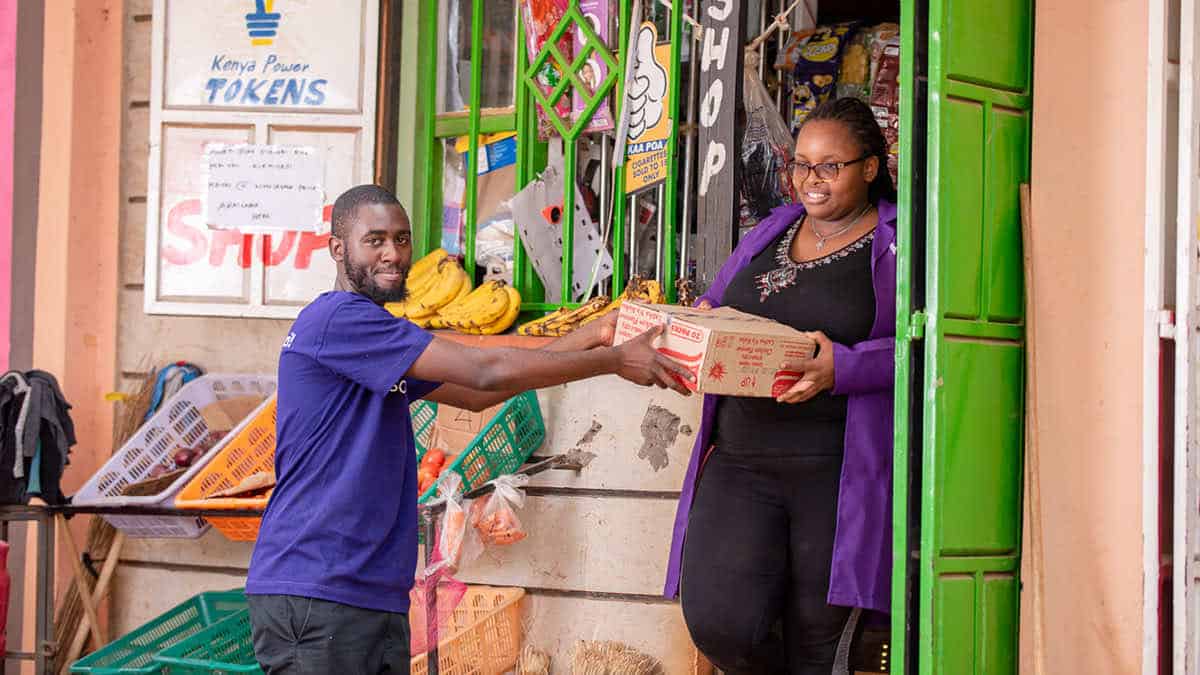 Sokowatch raises $125 million and becomes Wasoko
The Nairobi-based B2B company that connects informal retailers with manufacturers, Sokowatch, raised $125m in Series B funding from Tiger Global and Avenir when it rebranded to Wasoko. The company's valuation rose to $625 million.
Founder and CEO Daniel Yu launched Sokowatch in Kenya in 2015 as an asset-light platform and marketplace for the distribution of fast-moving consumer goods from suppliers to retailers. The model was not efficient because Sokowatch could not guarantee that the goods were delivered to the customer when ordering.
Yu said, "We realized that to provide the quality of service these stores deserved, we needed to get more involved," summing up "By managing operations directly ourselves… we moved from a distribution software platform low-resource backend to this market-oriented platform that delivered goods directly to the stores themselves".
Sokowatch was asset-rich at scale, owning and leasing facilities across its distribution chain, from warehousing to logistics. And what started in Kenya quickly spread to neighboring East African markets, Tanzania, Rwanda and Uganda in 2018.
Yu believes Sokowatch is now ready for a rebrand as it enters its next phase of growth – moving from an East African player to a pan-African player. While the company was set to change its name, Yu said it was still figuring out operations in this new integrated model. However, the recent entry into Ivory Coast and Senegal has forced his hand.
Yu commented, "Sokowatch started as this kind of backend brand. We wanted a brand that could be more front and center for the African retailer and easily pronounced in all markets while reflecting our East African roots. That's why we renamed ourselves Wasoko, which means "market people".
Wasoko offers an excellent service to its customers by enabling retailers in Kenya, Tanzania, Rwanda, Uganda, Ivory Coast and Senegal to order products from suppliers via SMS or its mobile application for on-the-go delivery. same day in their stores and boutiques via a network of logistics drivers.
It also offers a buy now, pay later option for retailers who need working capital to order more merchandise; these options are the latest trend for retail and B2B e-commerce businesses. They see it as a sticky option in an otherwise volatile space where retailers aren't committed to a single player given non-differential deals.
TradeDepot and MarketForce have raised impressive funding rounds with significant debt components to provide working capital to these retailers. Yet, instead, Wasoko is funding its BNPL option from its balance sheet.
MarketForce is a light asset platform in Kenya, Nigeria, Uganda, Tanzania and Rwanda. TradeDepot, on the other hand, operates an asset-intensive model in Nigeria, Ghana and South Africa; As we notice, what they have in common is their presence in Nigeria, which is considered the largest informal retail market in Africa.
Yu said, "We buy now, pay our merchants later, and it's an important part of our business. But we were able to do this independently without raising separate credit facilities. But we are looking at debt financing options."
Yu was asked why Sokowatch has expanded to other West African markets other than Nigeria; He replied, "Our choice to expand into French-speaking West African markets, I think, reflects the strong growth these countries have shown across the region. If you look at the last ten years, Senegal and Côte d'Ivoire have seen solid year-on-year GDP growth."
Summary "As you look at a market like Nigeria, the reality is that growth has been volatile and in some years negative. And on top of that, you have a lot of challenges in Nigeria's macro environment with regards to the economy, currency and regulations".
Commenting on informal retail in any African market which is seen as an untapped opportunity that gives any first mover a serious advantage, Yu said, "Any market we look at will have huge demand for our services. And of course, the supply chains of these other markets are even less organized, less established, and therefore more fragmented with more inefficiencies."
"We see an opportunity to make our model truly effective across Africa and hope that we will be able to leverage our existing experience in our playbook to successfully launch and scale our services now in six countries across the continent."
Wasoko has delivered 2.5 million orders to over 50,000 active retail customers in its network since launch.
The company said its revenue has grown more than 500% in the past year and 1,000% since 2019. TechCrunch has also learned that the African B2B e-commerce platform processes $300 million in ARR/GMV on more than 150,000 monthly orders.
The funding round was good news for employees and early backers who had bet on Wasoko years ago as new investors Tiger Global and Avenir Growth Capital led its Series B round (the pair also co-led Flutterwave's Series C investment last March), since Wasoko's 800 employees are shareholders in the company thanks to its universal pay equity policy.
Asked about the similarities between his trick and Flutterwave's, Yu said, "It was strategic. We've shared investors with Flutterwave since the early days; 4DX Ventures, for example, was an early investor in both Flutterwave and us".
Summary "When it came to lifting this round, I think being able to follow in their footsteps working with these great global investors who had seen the great return that Flutterwave had brought to them, I think eased the way for us as we reached the stage in our growth too".
This is the 10th deal and the first outside of fintech since re-entering the African tech market in 2021 for Tiger Global; Wasoko is also its second e-commerce investment on the continent after leading Takealot's $100 million in 2014 (Wasoko is B2B e-commerce, while Takealot is B2C) as it is the third African investment for Avenir Growth Capital after its checks in Flutterwave and Carry1st.
Coming two years after closing a $14 million Series A, Wasoko's round welcomed participation from VNV Global; Binny Bansal, co-founder of Flipkart; and Sujeet Kumar, co-founder of Udaan; Quona Capital; 4DX Ventures; and the JAM Fund.
Kumar, who has years of experience leading Udaan (the world's largest B2B retail e-commerce company), joins Wasoko's board. It is the second largest non-fintech round in Africa after Andela and the largest in the B2B retail e-commerce space with big names such as Egypt's MaxAB and Kenya's Twiga.
The new investment, which values ​​the company at $625 million, will allow Wasoko to continue its geographic expansion and product growth across the continent.
The company said it was exploring expansion into the West African nation and Southern Africa while consolidating its position in its current six markets; it will also hire new employees and expand its product offerings to point-of-sale merchant systems, bill payments and social commerce verticals that it may create internally or in return and acquire companies that provide such services .