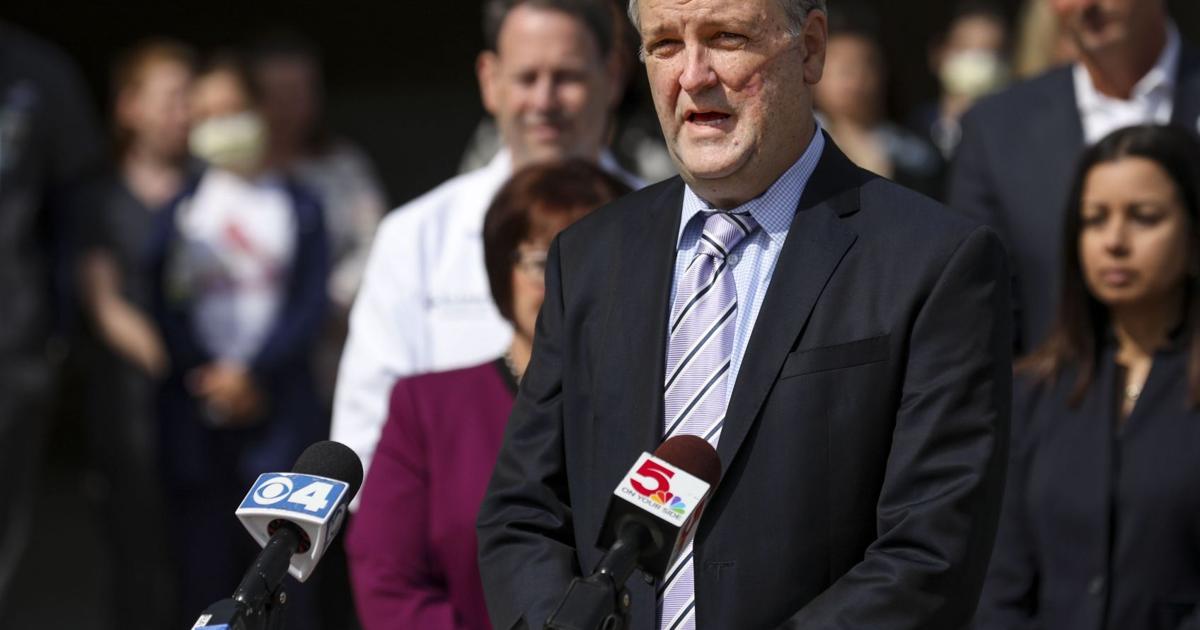 St. Louis County voters to weigh in on Page parallel work, other ballot measures | Politics
CLAYTON— Voters in St. Louis County will decide on Tuesday whether county executives should be banned from all secondary paid work.
Proposal B, one of four countywide proposals on the ballot, would change a provision of the county charter that "all the time of the county executive shall be devoted to the duties of office" specifying that the executive "shall not engage in any other employment or have the county executive perform any work as an independent contractor during the term of office. A county executive who breaches the provision would be required to resign from office .
The change targets County Executive Sam Page, an anesthetist who is running for re-election for a four-year term that would begin next year.
A majority of the county council voted 4-3 in December to propose the charter change. The sponsor, Councilman Tim Fitch, R-3rd District, argued that Page violated the county charter by continuing to work as an anesthesiologist and accused him of absenting himself from his public role.
Page, who has served as county executive since 2019, said his medical work is done in his "free time" during evening and weekend hours and does not interfere with his duties as county executive. He declined to disclose how many hours he works and how much he is paid.
In addition to Fitch, other council members who voted in December to put the proposal on the ballot were Rita Days, D-1st District, Mark Harder, R-7th District and Shalonda Webb, D-4th District. The four sued for subpoena records of Page's part-time hours and compensation from Mercy Hospital and Western Anesthesiology, where Page practices. The litigation is ongoing.
Council members Lisa Clancy, D-5th District, Kelli Dunaway, D-2nd District, and Ernie Trakas, R-6th District, voted against approving the ballot measure.
Jane Dueker, a local police union attorney and registered lobbyist against Page in the August Democratic primary, and state Rep. Shamed Dogan, a Ballwin Republican running for county executive, both endorsed proposal B.
"It will force him (Page) to choose between his outside job and the job the voters elected him to as county executive," Dogan said in a campaign video Thursday. "I promise voters that I will be a full-time county executive because that's what you as voters deserve, and that's what the county charter and the law requires."
Page campaign spokesman Richard Callow said the incumbent "has already made that choice."
"Dr. Page is a full-time county executive who spends time with family and friends, attends Cardinals and Chiefs games, works on his truck, and maintains his medical certification by occasionally helping out at hospitals and missions. medical," Callow said.
The county executive is paid $140,000 a year; the salary is fixed by the departmental charter.
Salaries of county appointees
A second ballot measure, Proposition A, asks voters to decide whether the County Executive's Office should be required to pay from its own budget executive appointees assigned to other departments.
The measure would require the county budget to list all executive appointees under the executive office budget. State Auditor Nicole Galloway recommended the move during a 2020 county government audit that criticized a longstanding practice by county executives of stacking their staff with political appointees and then billing their salaries to other departments in which they work. The practice had allowed executives to transfer about $1 million a year in personnel costs to other departments, according to the audit.
The county council voted 6 to 1 in December to approve the proposed charter change. Harder, who sponsored the proposal, said it was intended to make the county's budget "more transparent" by making it easier to track the cost of political appointees.
Use tax
Proposition C asks voters to approve a use tax on purchases from out-of-state online vendors. The rate, 3.38%, would be the same as the county's sales tax rate on purchases made at physical stores in the county.
County residents would not pay both sales tax and use tax on the same purchase. If any of the county sales taxes were to increase or decrease, the use tax rate would reflect the change.
Missouri applies a 4.2% state use tax on Internet purchases from out-of-state vendors and allows cities and counties to add use taxes equal to their local sale, if approved by voters. The board voted unanimously in December to place the issue on the April 5 ballot.
If passed, the county will join St. Louis, St. Charles County and other area governments in collecting use taxes.
Thirty-eight of the 88 municipalities in St. Louis County have use taxes, according to Pat Kelly, director of the Municipal League of Metropolitan St. Louis.
On Tuesday, voters will also consider using taxes in 26 additional county municipalities, including Florissant, Chesterfield, Webster Groves and Ballwin. The tax is listed Proposition 1 in Bellefontaine Voisins and Proposition U in the other 25 county municipalities.
Proponents say the use tax levels the playing field for brick-and-mortar retailers and gives governments much-needed revenue from internet sales. Until Missouri was the last state in the country without online sales taxes following a 2018 U.S. Supreme Court ruling allowing such collections.
The St. Louis County government would bring in about $10 million in revenue, Budget Director Paul Kreidler said. The estimate was based on a state tax memo projecting $60 million in statewide revenue, as there is no clear data on internet purchases from out-of-state vendors, Kreidler said.
Use tax proceeds are distributed in the same manner as sales tax proceeds, general purpose funding, parks, transit, emergency communications, public safety and services in childhood.
A political action committee seeking to convince voters to support the proposal spent at least $110,000 on a campaign funded by real estate associations and local businesses.
The committee, Local Jobs for STL, received $20,000 from Schnuck Markets, $15,000 from Centene, and $25,000 from the Civic Progress Action Committee, a limited fund left by the local CEO organization.
The biggest contribution came from the Chicago-based National Association of Realtors, which donated $84,557 in February. The St. Louis Association of Realtors contributed $10,000.
The campaign was spearheaded by Democratic consultant Michael Kelley's Show Me Victories company, which has worked on most major local ballot proposals in recent years.
There was no organized opposition to Proposal C.
Queeny Park Lease
Proposition D asks county voters to consider leasing buildings and surrounding acres in a county public park to a private school.
If approved, the county would lease three buildings and approximately 3 acres in Queeny Park to Raintree School for $2.8 million over the next 40 years, or $5,833 per month, plus utilities and maintenance. . The school plans to build a playground, cafeteria and gymnasium on the site, which would open to students in fall 2023 and be rented out after school hours to benefit the county.
The site includes Jarville House, a vacant carriage house listed on the National Register of Historic Places, and the former American Kennel Clubs Museum of the Dog, which moved to New York in 2018 after more than 30 years in the park under a lease for $1 a year.
Voters' approval is required for commercial use of the park, under a 2018 ballot proposal passed by voters in response to failed efforts to build an ice rink complex and center St. Louis Blues practice at Creve Coeur Lake Memorial Park.
Raintree School beat out two other bids for the property when St. Louis County Parks and Recreation issued a call for proposals in late 2019. The ballot proposal, unanimously approved by the county board, was initially scheduled for the April 2020 elections but was delayed by the pandemic. .
Neighbors who oppose the proposal have expressed concern about school traffic, the architectural integrity of buildings, and the county abandoning part of the public park.
Groups endorsing the proposal include the Missouri Alliance for Historic Preservation, the Open Space Council for the St. Louis Region, the St. Louis Audubon Society, the St. Louis County Parks Advisory Board, the St. Louis County Historic Building Commission, and the St. Louis County Parks. Foundation.
Blythe Bernhard and Mark Schlinkmann of the Post-Dispatch contributed to this report.
Editor's note: A previous version of this report identified an incorrect date. Proposal B would amend the county charter. This report has been updated.