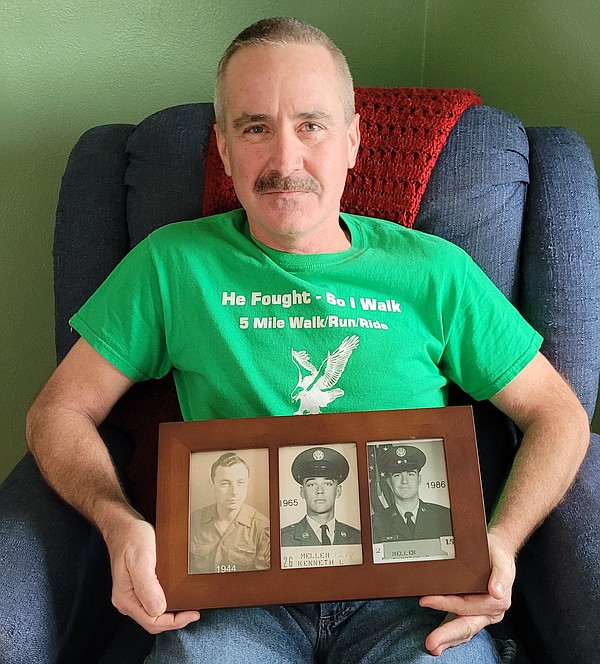 TC Meller learned to work on radar jamming equipment in the US Air Force
TC Meller attended several schools growing up while his father was on active duty in the US Air Force. Despite the uncertainties that come with these frequent moves, he followed in his father's footsteps and enlisted in the Air Force in December 1986, months after graduating from high school in England.
This marked the beginning of an important period which demonstrated for him the importance of committing himself to the greater mission.
"I joined the Air Force because it was something I had gotten used to for about 18 years – it was the lifestyle I had known," Meller said. "My basic training was at Lackland Air Force Base (Texas) then I went to my technical school at Keesler Air Force Base in Mississippi."
His technical training included instruction that provided him with the skills necessary to work on electronic countermeasure systems used on various aircraft. Described as "radar jamming" and "chaff and flare" systems, this equipment was designed to prevent radar-guided and heat-seeking missiles from being able to effectively target Air Force aircraft.
"Once I completed my initial training, my first assignment was with a test and evaluation squadron at Eglin Air Force Base in Florida," he said. "Part of my duties was to troubleshoot and maintain radar jamming systems installed on fighter and cargo aircraft such as the A-10s, F-15s and F-16s.
"We checked everything to prepare the plane for the target distances and some equipment was mounted outside the plane," he added. "Other times we were in the shop making repairs. Some equipment was designed to emit signals that made the aircraft appear further away – or closer – than it actually was, thus confusing everyone the missiles that had been targeted at them."
In May 1989, Meller was transferred to Torrejón Air Base in Madrid, Spain, where he began working solely on countermeasure systems installed on the F-16 Fighting Falcon. During the two years of overseas service, he deployed for several weeks to Aviano Air Base in northeastern Italy.
"During the brief time I was in Italy, we did our normal work working on radar jamming equipment, but it was structured as a training exercise that helped prepare us in case a conflict military would break out in Europe," he said.
Meller was transferred in May 1991 to the 67th Reconnaissance Wing at Bergstrom Air Force Base in Texas. While there, he continued to work on radar jamming equipment, but this time on the RF-4C Phantom II – a tactical reconnaissance aircraft.
Many years earlier, Meller spent a year with her grandparents in Mid-Missouri and completed her junior year of high school in Russellville before moving to England with her parents. While attending classes in Russellville, he met former Linette Duncan, whom he married in the winter of 1991 while posted to Bergstrom Air Force Base.
"We learned in the spring of 1992 that Bergstrom would be closing because of BRAC (Base Realignment and Closure)," Meller said. (BRAC is a congressionally authorized process that has been used by the Department of Defense to more effectively reorganize its core structure.). "Several weeks later I was transferred to Pope Air Force Base in North Carolina and assigned to the 23rd Fighter Group."
Continuing to perform the duties for which he had been trained, the airman was informed that his name was on a shortlist for deployment to Korea. Rather than re-enlist, he chose to begin the transition to civilian life, ending his active duty engagement in September 1993.
After leaving active duty, Meller joined the Illinois Air National Guard in Peoria, Illinois in 1993. Initially, he recalls, his squadron was assigned F-16s and he been able to regularly apply his previously developed skills in the Air Force. However, the squadron later switched to C-130 transport aircraft, inspiring its decision to leave the Air National Guard in 1997.
His daughter, Lydia, was born in September 2005 while he and his wife lived in Peoria. Full-time, he was employed for several years at Caterpillar Inc. in Peoria, before moving to the Boonville plant in 2007 to be closer to his family in Mid-Missouri.
When his position was reduced in late 2015, Meller worked briefly for the city of Boonville, followed by a stint at a manufacturing company in Colombia. Since May 2020, he has worked at Unilever in Jefferson City. He and his family now live south of Jefferson City and are members of St. John's Lutheran Church in Stringtown.
In the years since his release from the Air Force, the veteran has come to recognize many important lessons learned from his military experiences, including the work ethic he provided.
"It was really interesting growing up around the military," he said. "After arriving, I developed a pride in knowing that I had been taught not only to perform a specific task, but also to take on some of the overall responsibility for maintaining the mission capability of the aircraft.
"Outside of service, I've encountered the 'It's not my job' mentality at times," he added. "In the Air Force, you learn to commit to the greater mission because ultimately it will make everyone's job easier. That's a lesson that really stuck with me."
Jeremy P. Ämick writes on behalf of the Silver Star Families of America.