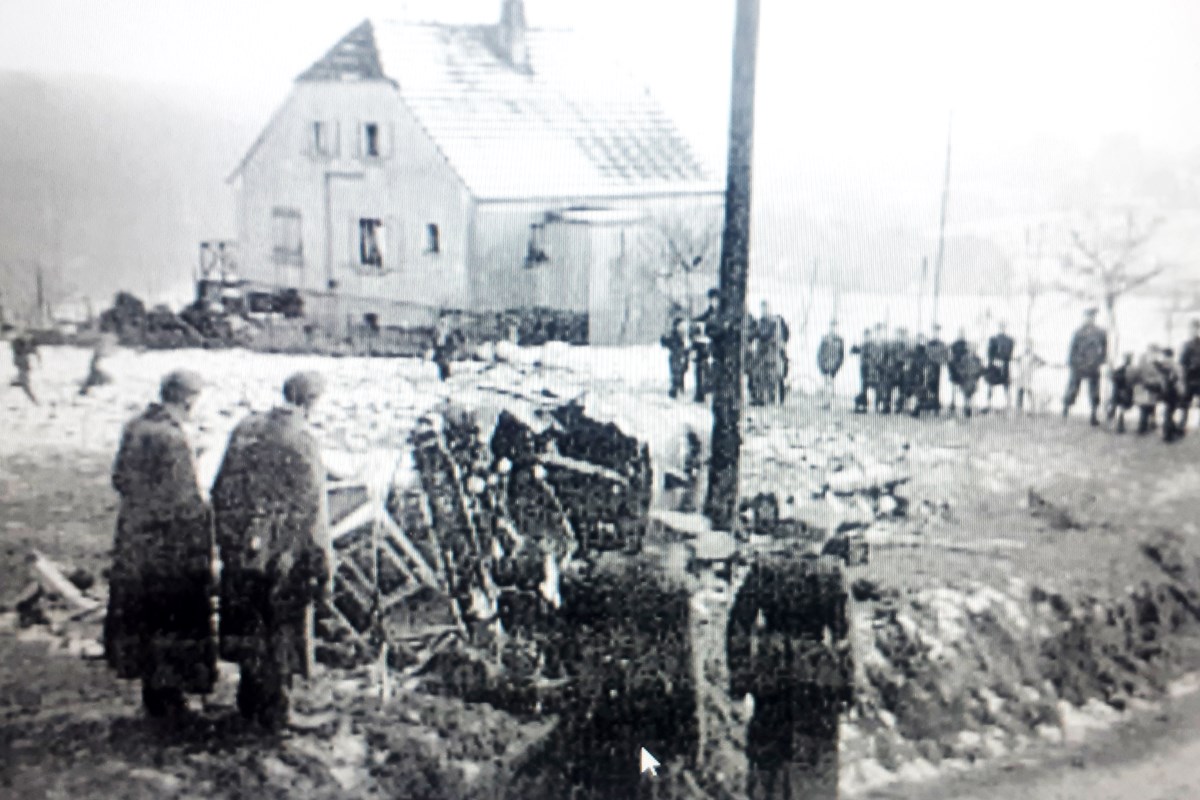 What was life like for an RCAF bomber pilot in WWII?
German defenses hit Halifax bomber after returning from overnight raid on Stuttgart
Editor's Note: Citizen journalist Ted Clarke, while researching a story about his uncle Ted, a WWII bomber pilot, learned that during the war in Europe it was not uncommon to confide in teenage pilots like his uncle the task of piloting dangerous missions. with increasingly low chances of survival that often ended in tragic fashion for these young flight crews. Stories like these give us a sense of the sacrifices our armed forces have made to give us our freedom.
A few months after gaining his wings in the Royal Canadian Air Force at the height of World War II, 19-year-old Samuel Edward (Ted) Clarke was given the enormous responsibility of piloting a bomber.
Not only did his own life depend on the flying skills he had acquired over the past year, but also that of six other airmen carrying out their duties aboard their four-engine LW242 Halifax Mk II.
Known as the workhorse of RAF Bomber Command, the Halifax was the Cinderella brother of the better known Lancaster. Of the 39,000 bombings carried out by the Royal Canadian Air Force, at least 29,000 were missions in Halifax. Weighing 60,000 pounds, with a load capacity of 13,000 pounds, it flew 82,773 missions and dropped 224,207 tons of bombs.
Powered by four Rolls-Royce Merlin engines, the Handley Page (Mk II) Halifax Clarke flew undernourished and could not reach high altitudes, limited to a ceiling of 22,000 feet, a top speed of 282 miles per hour and a range of 2,350 miles.
Considered deadly traps until the introduction of the Mk III version in early 1944, they were dangerous to ride as they were heavy and had too much drag, largely due to the location and design of the turrets.
They were vulnerable to attack from fighter jets, and design flaws limited them to night raids only. Of the 10,659 Canadians killed in action as a bomber commander, 7,461 were flying Halifax bombers. There were 6,178 built by the Allies and 1,833 of these planes were lost in the war.
On January 18, 1943, Clarke was assigned to RCAF 419 Moose Squadron, based at RAF Middleton, St. George, Durham, England – one of the most decorated RCAF units of the war, participating in 342 missions bombardment, 53 operations and three thefts of leaflets until April 25, 1945.
Moose Squadron lost 129 planes and the war toll was particularly deadly from January 1943 to March 1944. During that 15 month period they flew over 200 sorties, lost 59 planes and 415 airmen were lost. killed or captured. The average crew survival rate was two to three months or 20 missions. A study from late 1942 determined that bomber pilots had a 43 percent chance of surviving their first operational round and only 18.5 percent of completing a second round. Survival rates improved dramatically when the Halifax was retrofitted with more powerful Bristol Hercules engines, starting in November 1943, and by 1944 they proved their superiority over German fighters. But these improvements came too late for Clarke and her crew.
Born October 5, 1923, in one of his last letters to his family in Parkside, Saskatchewan, Clarke wrote about his war experiences and the dangers inherent in the life of a bomber pilot.
"We were on a night flight again last night and it looks like I'm going to be spending my 20th birthday there," he said. "Strange as it may sound, just adding this year to my age, I feel like I'm at least four years older because when you get past 'teen' age, there is no only worry and anxiety. "
Promoted to flight sergeant in June 1943, Clarke fulfilled his duties as second pilot on November 4 and completed an operational mission as senior pilot with his new crew when they received what would be their last call for service. The flight sergeant was assigned to Clarke's plane. John Vinton Dillon of Tecumseh, Ont., The 25-year-old co-pilot and the oldest of the seven airmen. Machine gunner Everett Williams Chalk of Brantford, Ont., 20, was also on board; machine gunner James Lyall Truax of Maxwell, Ont., 20; navigator Lloyd Pierson Webster of Roland, Man., 22; wireless operator James Robert Henderson of Tweedmouth Berwick on Tyne, England, 20; Flight engineer Jack Dandridge Whittingham of Shipley, England, 19. The average age of the crew was 21
The bombardments against major cities in Germany intensified in early October 1943 and over the next seven months more than 100 flight crews from 419 Squadron were dispatched to bomb German cities. On each raid, a force of scouts would fly over at lower altitudes a few minutes before the main fleet to identify targets, their locations being indicated by dropped colorful flares. German ground defenses used radar-controlled searchlights bright enough to spot planes flying up to 30,000 feet and temporarily blind flight crews, who spiraled down to try and escape the lights.
On November 26, 1943, 419 Squadron was ordered to attack a diversionary target in Stuttgart, while a larger bombing force marched to Berlin. The sky was partly cloudy that night and target markers were used, but the Germans deployed dummy markers of the same color, which fooled some of the bombing crews and lessened the effect of the raid. Five of the 178 bombers sent to Stuttgart, including Clarke's, did not return.
Shortly after dropping their load of 18 500-pound bombs, Clarke and his teammates were flying over the German town of St. Ingbert, 200 kilometers northwest of Stuttgart, when they fired the flak, or airplanes from Luftwaffe fighter or anti-aircraft guns. on the ground, and their Halifax suffered catastrophic damage.
It is impossible to imagine the terror they felt when their plane collapsed to the ground, if the men inside were able to strap their parachutes on their backs to try out exits before crashing into a field. residential. There were no survivors.
The bodies of the seven Moosemen were initially buried in St. Ingbert on November 30, without military honors, a practice for enemy soldiers that had recently been banned by the Nazi Party. After the war, they were transferred to the Rhineberg War Cemetery near Düsseldorf where they remain.